This is the first part of the blog series about "Indigenous Imaginarium Experience Diary", written by Yurshell Rodriguez. She is an Indigenous impact storyteller, photographer, and part of the INUTW team. Learn more about her experience during the Indigenous Imaginarium, A gathering of Indigenous Creatives with Hollywood Industry to re-imagine our climate futures, held from February 28 to March 7, 2023, in Los Angeles, US.
As my airplane descended towards Los Angeles, I looked out of my window and saw the shining lights of the city. It was a magical moment – I was finally going to visit the home of the stars, the place where imagination and creativity thrives. It's a place where dreams can come true, and I couldn't wait to experience it for myself.
This was my first journey to the northern territories of Abya Yala, or the United States of America as it was named by the new settlers who thought they knew best, or that our ancestors knew very little. As an AfroIndigenous person, I was initially apprehensive about visiting this country, given all the recent events and the struggles of BIPOC communities. However, my desire to explore the land of Hollywood and what it had to offer overpowered my fears.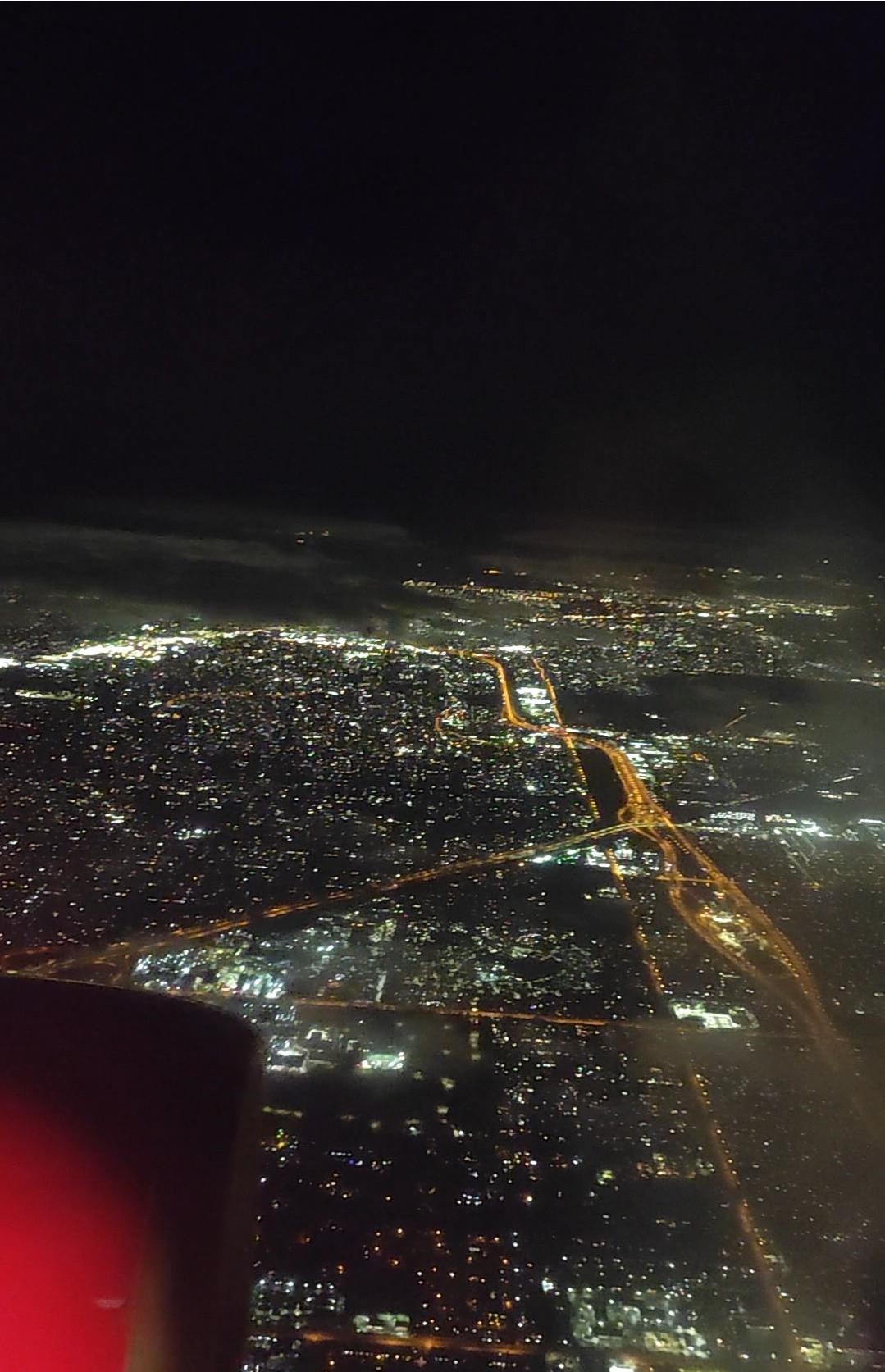 I did get late…
To be honest, I never thought this day would come. I faced numerous delays with my visa requirements and almost lost hope. But LA has a unique aura that always keeps you dreaming, no matter how difficult the circumstances may seem.
As the plane landed, I was filled with excitement and a sense of adventure. I was eager to explore everything that LA had to offer – the beaches, the entertainment industry, and the diverse communities. Although I knew that there would be challenges ahead, I was ready to embrace them with open arms.
The journey to LA was an unforgettable experience for me. Despite the initial doubts and obstacles, I was able to immerse myself in the energy and spirit of this iconic city. It was a reminder that dreams can come true if you believe in them and work hard towards achieving them. LA may be the home of the stars, but for me, it was a place of endless possibilities and new beginnings.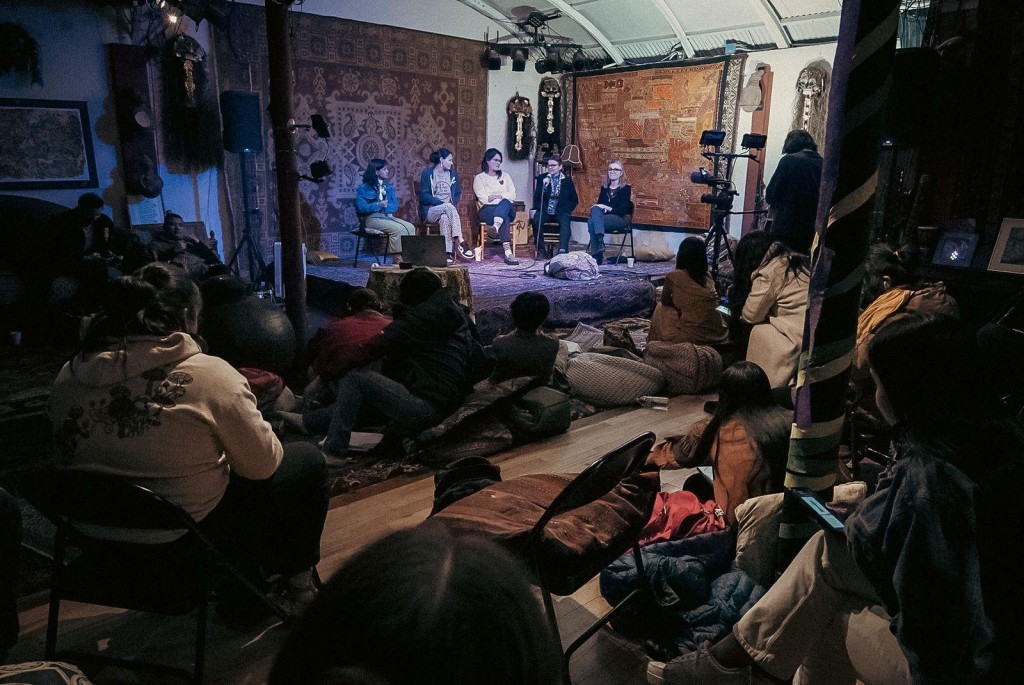 Upon arriving at the Indigenous Imaginarium event at the Corazon Perfonming Art center in Topanga, I knew that I had missed the first day of this event but the days to come were worth this lost time. As an Afro-Indigenous Raizal woman from the Caribbean, I often feel like I don't fit the typical stereotype of "indigenous" that Western society is used to, which has sometimes kept me from participating in some spaces and cultural events. However, being at Imaginarium felt like a dream come true because I felt like I was home.
As soon as I walked into the space, I was greeted with a warm welcome in a spiritual and communal way. I saw familiar faces and hugged the people who have been changing my view of life as an activist and an impact storyteller for my community. It was a powerful moment to be surrounded by so many like-minded individuals who were all there to celebrate and uplift indigenous cultures.
One of the highlights of the event was the Directors Panel, where I had the opportunity to listen to amazing creators, directors, and producers discuss their experiences and share their lessons learned while working with actors. It was an eye-opening moment for me, as I realized the importance of representation in the industry. It was empowering to hear from incredible females such as Dana Ledoux Miller, a Sāmoan writer, Loren Waters, an award-winning filmmaker and citizen of the Cherokee Nation, and Kate Woods, an Australian director, among others, who shared their experiences and gave us tools to improve our skills.
The panelists also discussed what it means for the Hollywood industry to experience this nurturing and conscious encounter. It was a reminder that we need more spaces like this, where indigenous creatives can come together to share their stories, experiences, and expertise. The event was a testament to the power of community and the impact that we can make when we come together.
In conclusion, attending the Indigenous Imaginarium event was an unforgettable experience for me. It was a space where I felt seen, heard, and valued as an indigenous storyteller. It was a reminder that our stories and perspectives matter, and that we have the power to make a positive impact in our communities and beyond.
It is about being creative…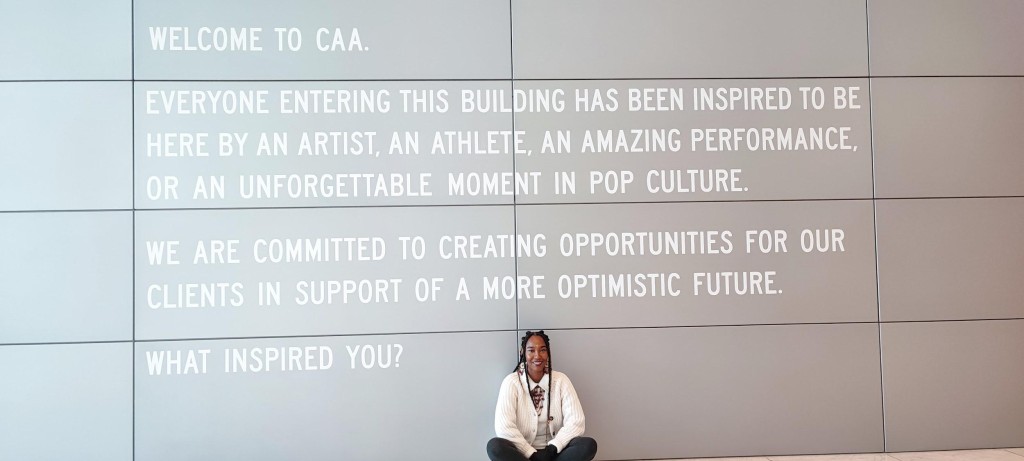 On the third day of the event, we had the opportunity to attend fruitful panels at the Creative Artist Agency space. One of the most notable panels was centered around the topic of producing in the film and television industry. The panelists included Eric Watson, an award-winning producer and co-founder of Protozoa Pictures, as well as Gavin Behrman, a production manager and producer who has worked on major productions like Blade Runner and The Mandalorian.
The panel discussion was aimed at providing us as attendees with a deeper understanding of the role of a producer in Hollywood and what it takes to be successful in the industry. The panelists shared their own experiences and insights into what it takes to produce films and television shows that are not only critically acclaimed but also commercially successful.
One of the key takeaways from the panel was the importance of collaboration in the production process. The panelists emphasized the need for a strong team of professionals who can work together to bring a project to life. They also stressed the importance of staying true to your creative vision while also being open to feedback and collaboration from others.
The panel also addressed the challenges that indigenous creatives face in the industry and how they can overcome them. The panelists encouraged us as indigenous creatives to embrace our cultural heritage and use it as a source of inspiration for our work. They also highlighted the importance of networking and building relationships within the industry to open up more opportunities for ourselves.
Overall, the panel was an insightful and inspiring discussion that gave us a better understanding of the role of producing in Hollywood and what it takes to be successful in the industry. The panelists' insights were particularly valuable for indigenous creatives who are looking to break into the industry and make our mark.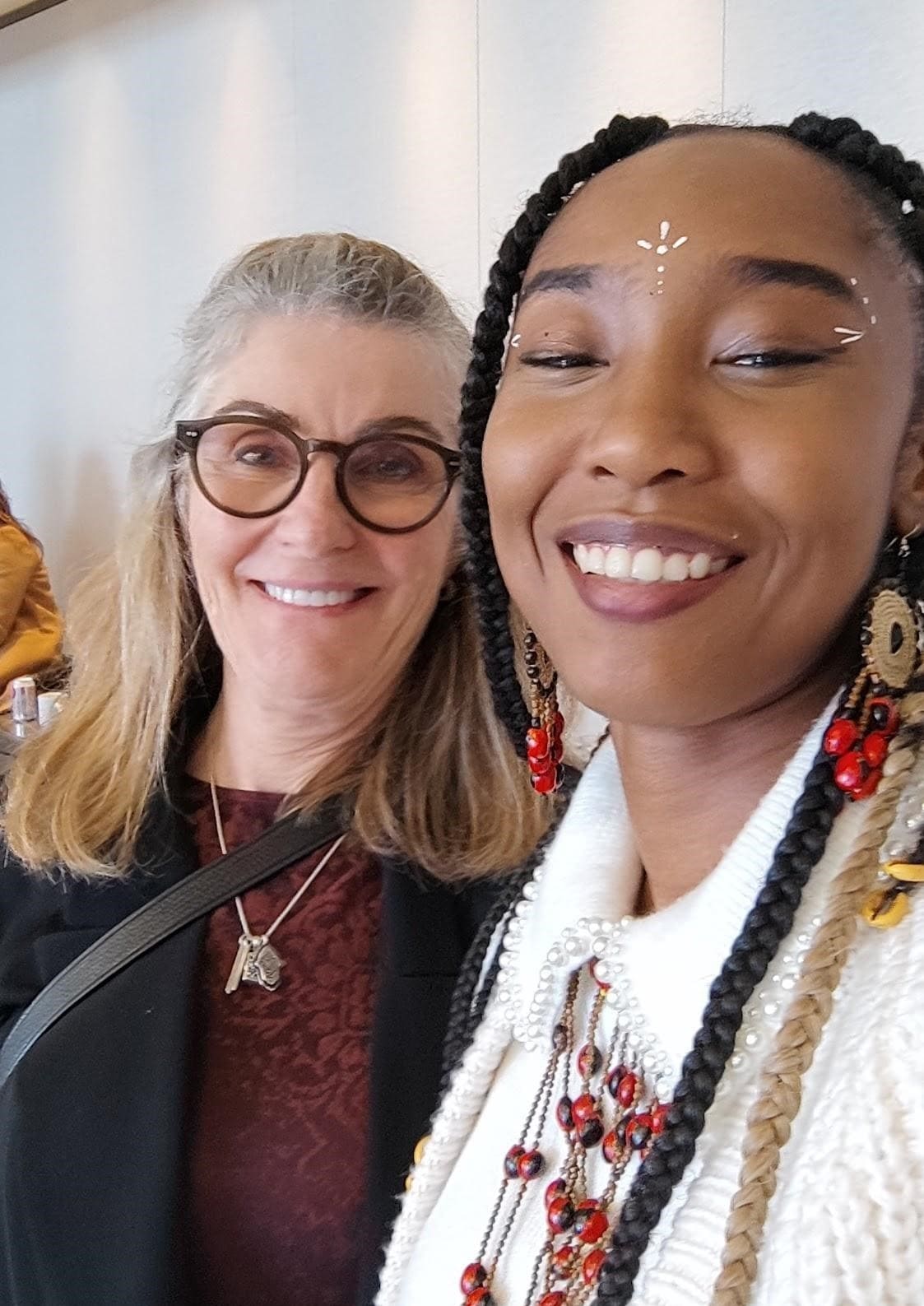 The other panel that gave me a lot of insights was the screening of "The Roof" , a powerful and moving experience that provided me valuable insights into the complexities of cultural identity and the impact of colonization on our Indigenous and afro descendant communities. The film, written by W.A.W. Parker, a queer, Two-Spirit, Northern Cheyenne, and white writer, tells the story of a young Cheyenne teen who discovers a family secret that connects him to his family and community in a way he never thought possible, while staying with his grandfather.
The film highlights the struggles that many young Indigenous and afro descendant teens such as myself face in reconnecting with our culture and heritage, especially in a world where colonization has caused so much harm and trauma. The character's journey to understanding and accepting his identity is both heartbreaking and heartwarming, as he discovers a deeper connection to his family and community than he ever thought possible.
One of the most powerful aspects of the film is the way it showcases the diversity within Indigenous cultures. The character's identity as a queer, Two-Spirit person is just one example of the many different ways that Indigenous people express themselves and their cultural identity. This diversity is often overlooked or erased in mainstream media, but "The Roof" gives a much-needed platform to these voices and perspectives.
The fact that the film will be released on Disney+, a major streaming platform, is a testament to the importance of these stories and the growing recognition of Indigenous voices in mainstream media. The collaboration between Parker and his producer Blake Pickens, an Emmy Award-winning Chickasaw comedian and filmmaker, is also a testament to the power of Indigenous creators supporting and amplifying each other's voices.
The screening of "The Roof" was a powerful reminder of the resilience and strength of Indigenous cultures, despite the many challenges they have faced. It also highlighted the importance of love, solidarity, and acknowledgement of each other as core anchors of Indigenous communities. This film is a must-watch for anyone interested in learning more about the complexities of Indigenous identity and the impact of colonization on these communities.
Watching the sunset in Santa Monica…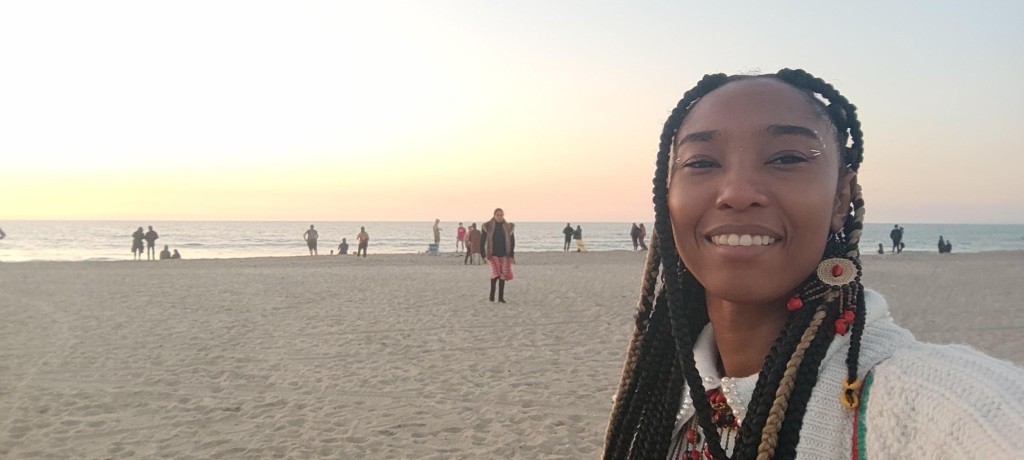 Watching the sunset at Santa Monica beach was truly a once-in-a-lifetime experience that I will cherish forever. After three long days of work and meetings, it was a much-needed break to relax and enjoy the beauty of nature. As an ocean person, the sea has always held a special place in my heart, and being able to witness the colors blending together like a painting during the sunset was simply breathtaking.
The beauty of the beach was not just in the colors, but also in the peacefulness that it brought. The beach birds were having their best time and I couldn't help but smile as they played around in the sand. It was a reminder to me that life is precious and we should take time to appreciate the little things around us.
For me, the sea has always been a connection to my ancestors and a reminder of the importance of protecting our environment. The ecosystem that gave us life and supports it in ways we can't even understand deserves our utmost respect and care. As I stood there watching the sunset, I felt a sense of responsibility to share this message with the world. We need to do everything in our power to protect our oceans and the life it supports, not just for ourselves, but for future generations.
Overall, the experience of watching the sunset at Santa Monica beach was a beautiful and peaceful moment that reminded me of the importance of taking time to appreciate the beauty around us and the responsibility we have to protect it. It was a moment that I will carry with me always and I feel truly blessed to have had the opportunity to experience it.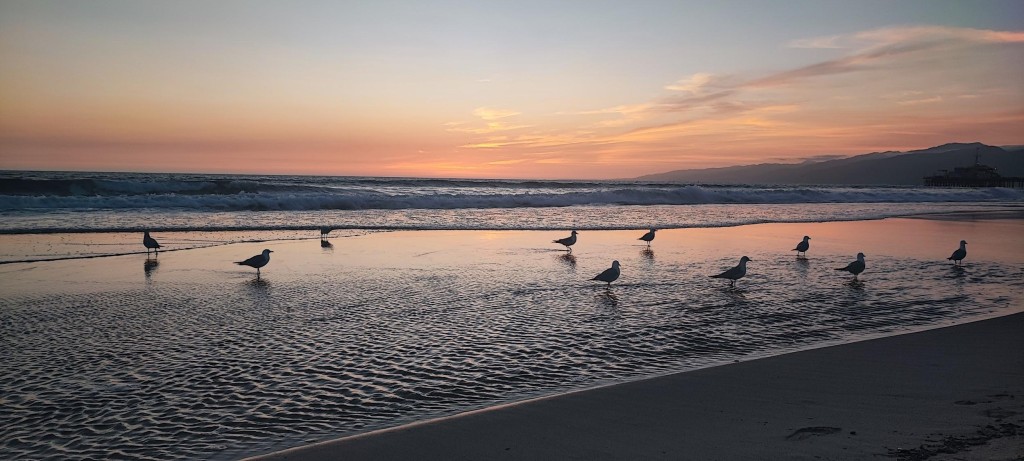 On the go…
The fourth day of our trip was an exhilarating experience as we were hosted at The Berrics by Nigel Alexander, a renowned skateboarding videographer and editor who has worked with top brands like Nike SB, Gatorade, and GoPro, among others. Nigel is also a social media influencer in the skateboarding community with a reach of around 1.3 million across various platforms like Facebook, Instagram, and YouTube.
The Berrics is a private indoor skatepark owned by professional skateboarders Steve Berra and Eric Koston. The facility not only provides a space for skateboarding enthusiasts but also hosts a website that features content filmed in the skatepark and other skateboard-related media. The name "The Berrics" is a clever portmanteau of the owners' names, Berra and Koston.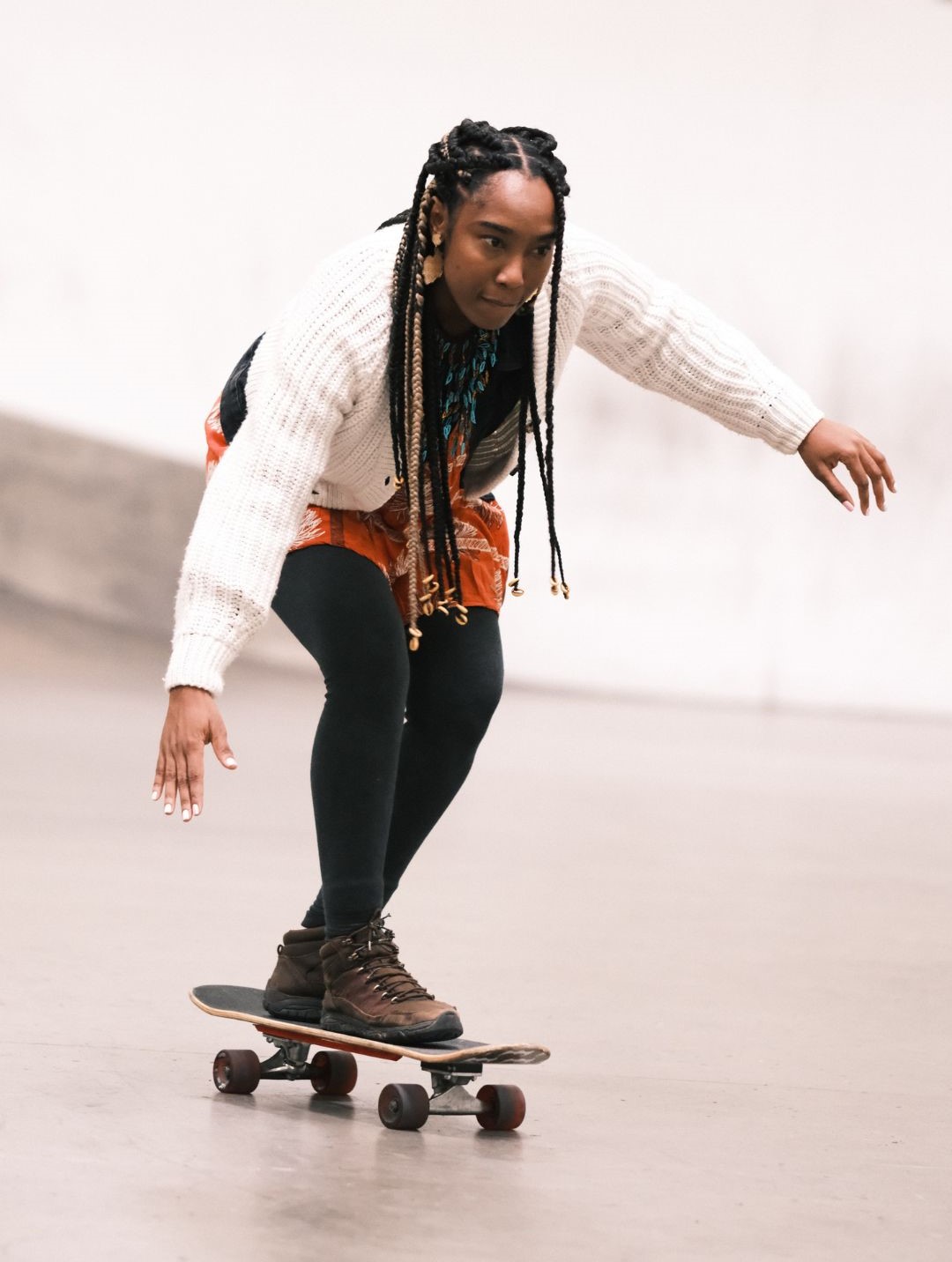 Image Credit: Nove Niryanti Usun
As Nigel shared his experiences and insights with us, it became clear that skateboarding is not just a sport but also a way of life. It is a community of individuals who are passionate about their craft and will do anything to keep it alive. The world may try to stunt its growth, but the skateboarding community continues to thrive because of its strong will and determination to survive just like us.
Berrics' philosophy is centered on living life to the fullest and pushing the boundaries of what is possible. They believe that skateboarding is a way to express oneself and to push the future. The facility's owners have gone to great lengths to provide a safe and conducive environment for skateboarders to practice and hone their skills not only on skateboarding but also in filmmaking.
In a world where change is constant, The Berrics remind us that we will always be here as long as we keep creating and dreaming. Skateboarding, filmmaking, storytelling are a way of life that requires dedication, passion, and perseverance, and The Berrics embodies these values. As we left the facility, we were reminded that skateboarding\filmmaking are not just a sport or a hobby but ways of life that bring together a community of individuals who share the same passion and values.
Uniting forces …
At the end of the day we were surprised by an invitation by one of our INUTW board members and supporters, Bill Pullman, one of Hollywood's renowned actors, Bill Pullman, who is also a member of our  board. Bill is well-known for his acting roles and has been awarded numerous times for his work in the entertainment industry. Currently, he stars in the Netflix series, The Sinner. 
As our group arrived, we were warmly welcomed with a big smile and a gracious heart, which made us realize the importance of having supporters who are willing to stand alongside us  in our cause of protecting Mother Earth.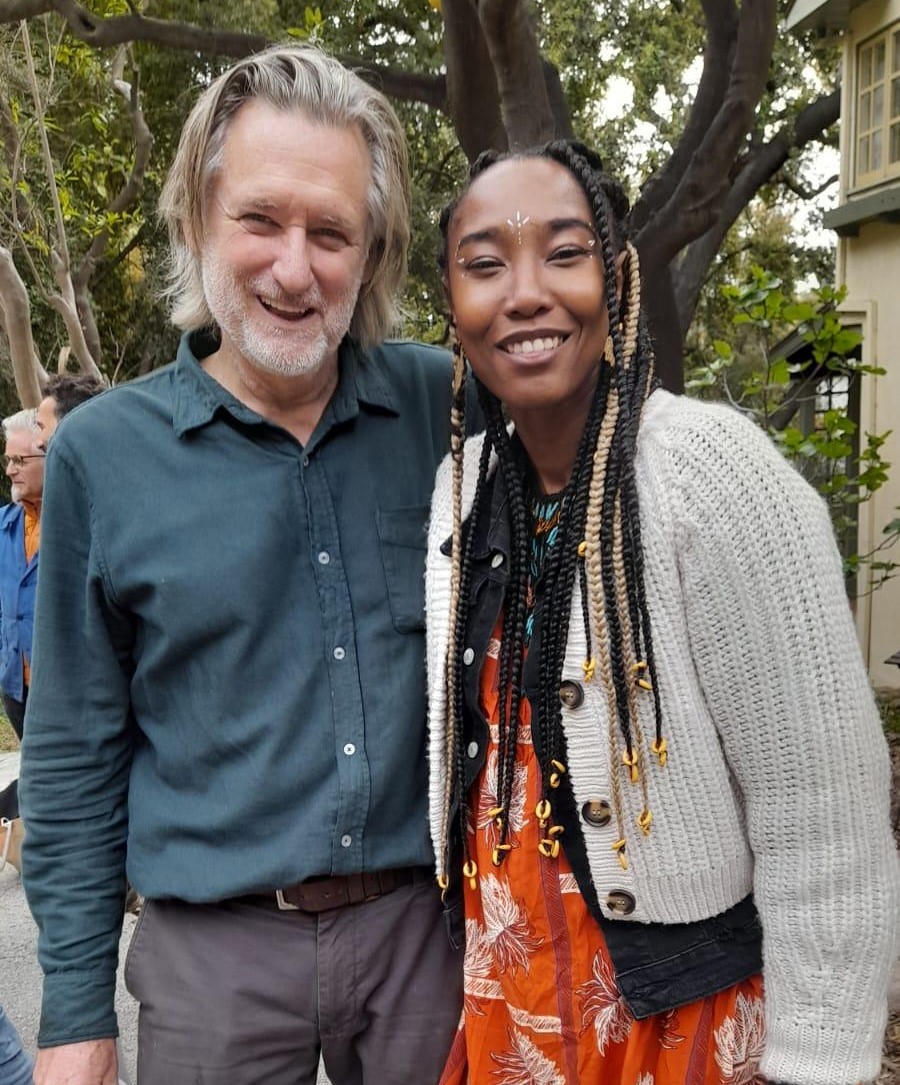 Bill, who is a botanist at heart, has been protecting the land that life has granted him, together with his wife and a supportive community that participates actively in stewarding the forest. Since he settled in the Topanga Canyon, he has been planting fruit trees and nurturing seeds. He shared his story, passion, and all that his environment had to offer with us as young Indigenous filmmakers, storytellers, and activists who were having a life-changing experience. His generosity and openness allowed us to learn and grow while in his presence.
Bill's love for nature and the environment was apparent in the way he spoke and engaged with the group. He shared his knowledge and experiences, inspiring the group to be more proactive in their efforts to protect and preserve the environment. To top it all off, Bill even allowed us to enjoy his hot tub on a chilly California evening, which was a treat after a long and eventful day.
This experience was significant for the Indigenous imaginarium mentees and the INUTW team, as it highlighted the importance of having allies who share the same vision and passion for protecting the environment. Bill's actions showed that it takes more than just words to make a difference. His active participation in preserving the environment through planting and nurturing trees, and stewarding the forest, and supporting indigenous led NGOs,  was a testament to his commitment to the cause.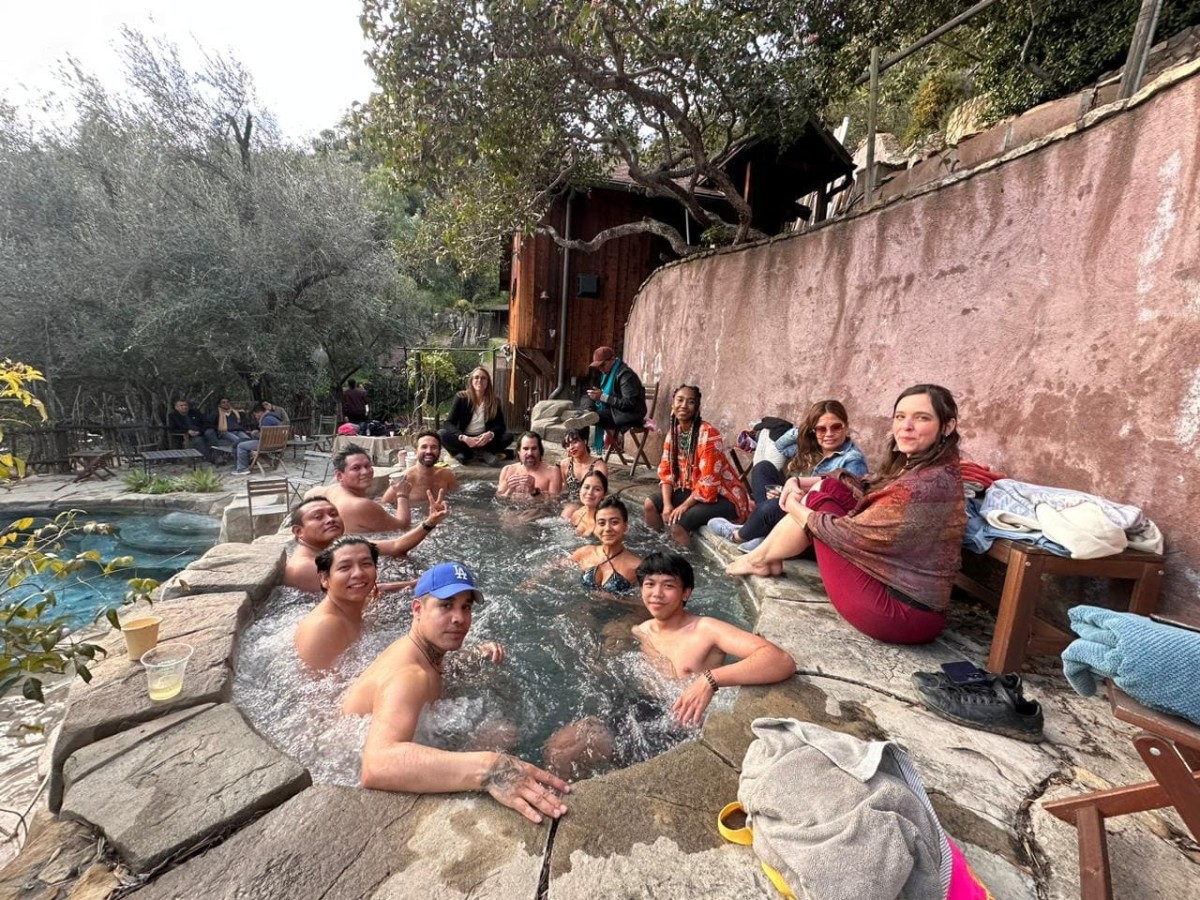 Reimagining the world and taking actions for the future …
The fifth day of our journey was one that we will never forget. We were privileged to be granted an invitation to tour the studio of one of the most legendary and innovative filmmakers of our time, James Cameron. Cameron is a Canadian filmmaker who has made his mark in the post-New Hollywood era, and is widely recognized for his innovative use of novel technologies and pushing the boundaries of cinematic capability. His impressive list of films includes The Terminator (1984), Aliens (1986), Titanic (1997), Avatar (2009) and its sequels, and many more.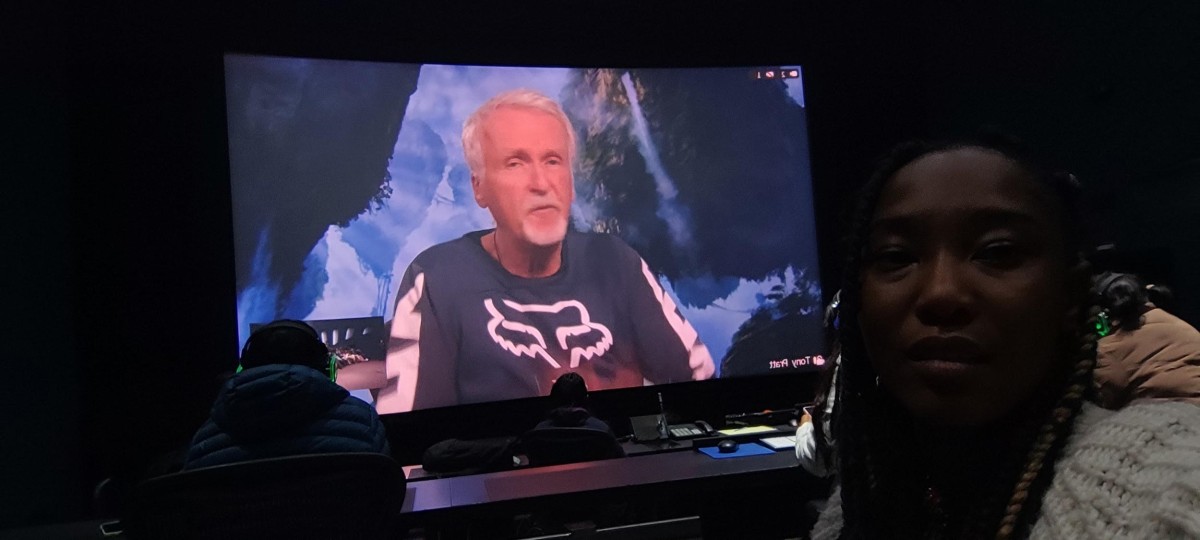 Our tour was hosted by Maria Wilhelm, the Executive Director of the Avatar Alliance Foundation and President & COO of CAMERON Companies. Maria is known for merging social advocacy with a focus on climate change and a broad range of commercial initiatives integrating new technologies and interests in China and elsewhere. She was an executive producer of DEEPSEA CHALLENGE 3D, the National Geographic documentary on the historic expedition. Maria is also an executive producer of Years of Living Dangerously, the Emmy Award-winning climate change series on the National Geographic Channel.
Kim Butts, the design director of the Avatar Alliance Foundation (AAF), was also present during our tour. She co-produced "What Would the Ocean Say?" for World Ocean Day at the United Nations and "Not Reality TV," a short film on the climate crisis.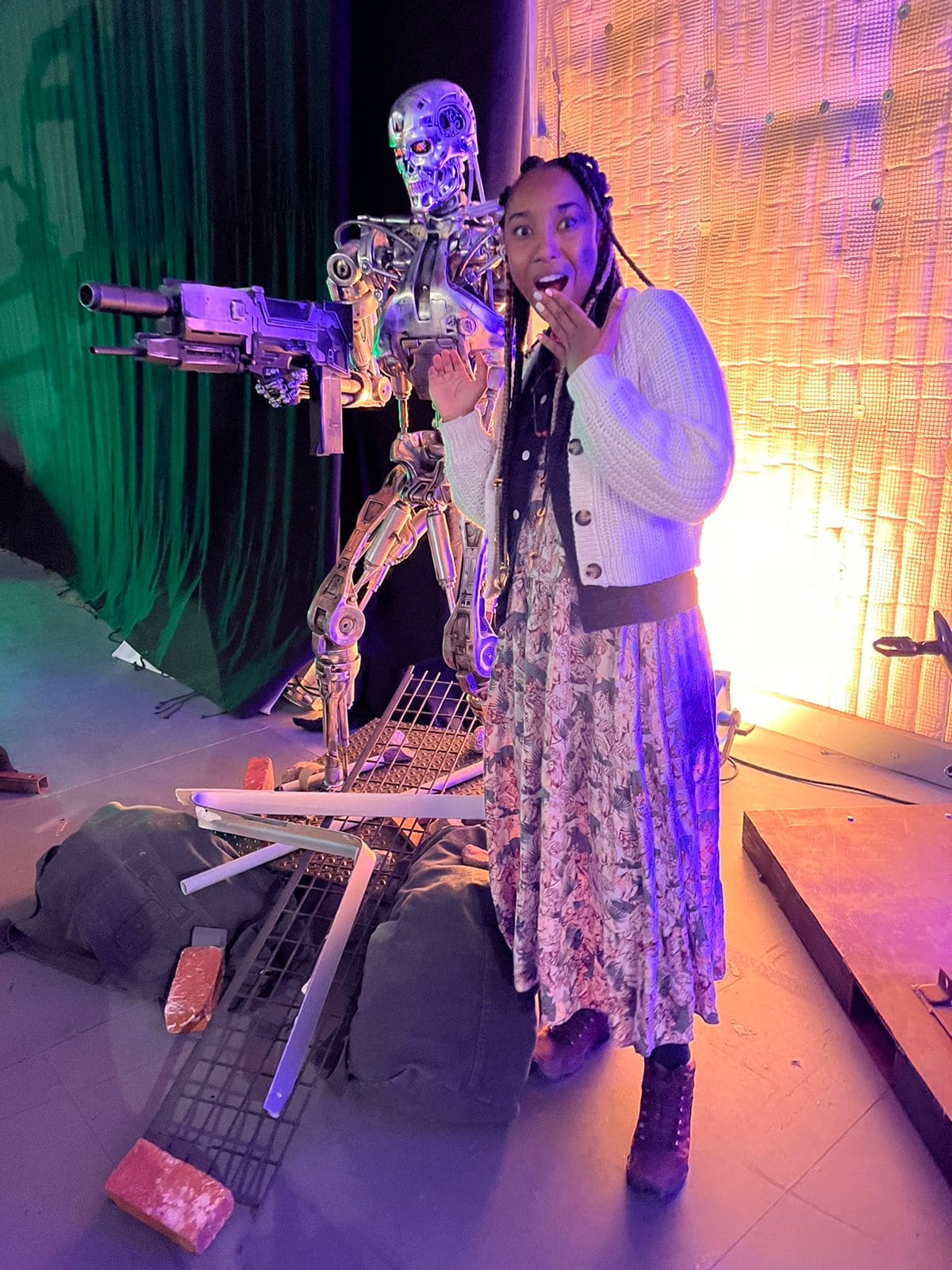 She is integral in a number of advocacy media projects produced by the AAF, and co-designed "James Cameron — Challenging the Deep." During our tour, they shared with us the screening of AKASHINGA: The Brave Ones, a 14-minute film, and some of their trailers for the upcoming Secrets of the Elephants with Paula Kahumbu on National Geographic/Disney+.
The tour was an unforgettable experience, as we were given a glimpse of the behind-the-scenes work that goes into making some of the most iconic films of our time. We were amazed at the level of creativity, innovation, and technology that were being utilized in Cameron's studio. From digital 3D cameras to underwater filming and remote vehicle technologies, it was a true testament to how far the film industry has come and how it continues to evolve.
Our tour of James Cameron's studio was a true honor, and we were grateful to have had the opportunity to learn from some of the most creative minds in the film industry. It reinforced our belief that when we combine passion, innovation, and purpose, we can achieve great things that can make a positive impact on the world.
Where it began …
The Indigenous Imaginarium experience was truly remarkable and transformative. It was truly a dream come true for all of us who came from different parts of the world, a unique opportunity to come together, share our stories. It was a space where us as Indigenous creatives, filmmakers, and activists from around the world could come together and share our stories, knowledge, fights and dreams. This seven-day interactive incubator was a platform for learning, developing, and advancing on our story ideas inspired by cross-cultural experiences, days of pure magic that we spent together  and will leave a lasting impression on us all.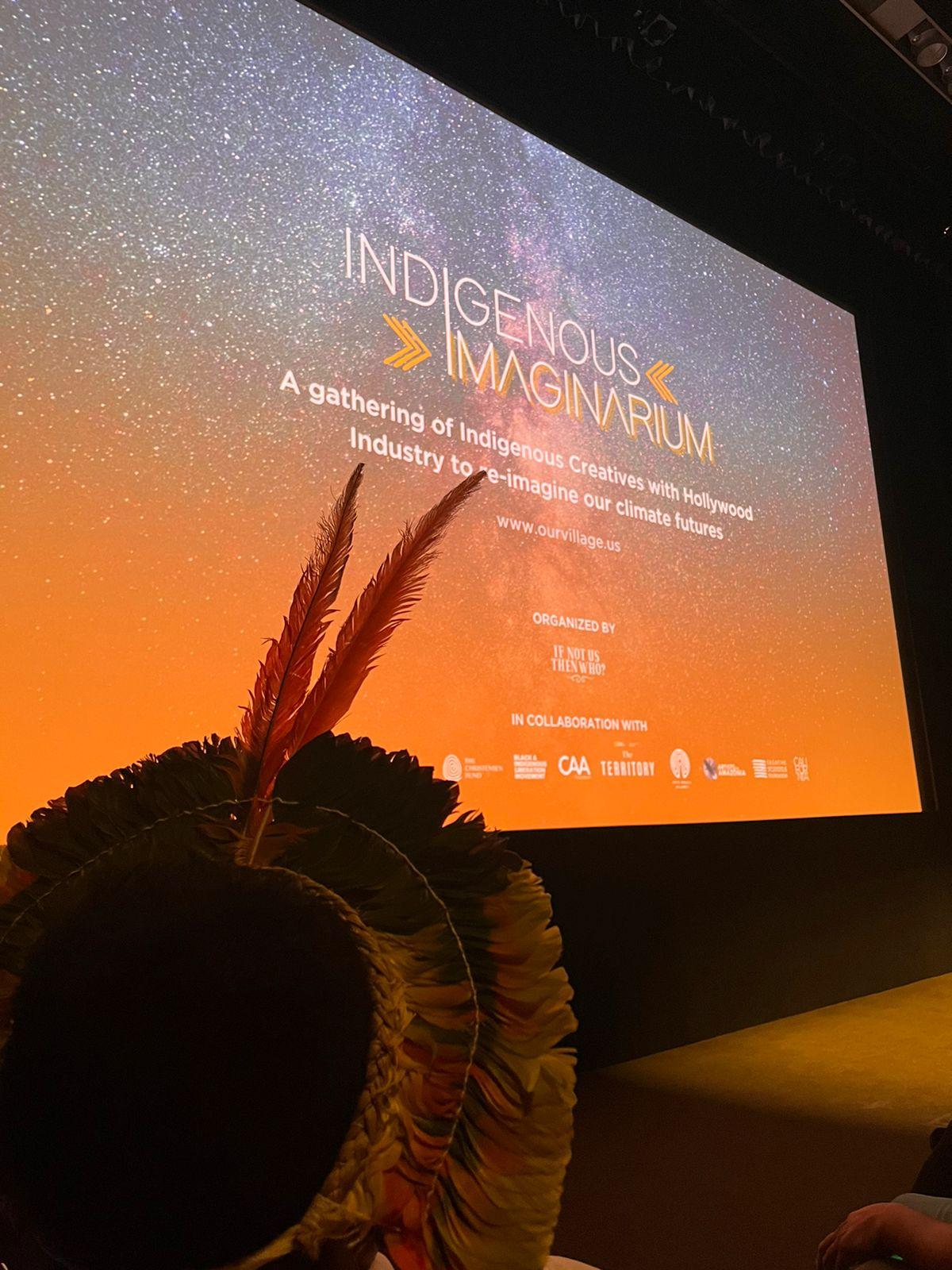 The showcase and networking reception in Los Angeles organized by If Not Us Then Who in partnership with other organizations, was a highlight of the event and the culmination of this amazing experience. It was a space to reimagine climate justice through the indigenous dream of a healthy relationship with our planet, each other, and all living things. We had the chance to connect with Hollywood film industry members, influencers, and artists and bridge the gap between storytellers in the global south and the film industry in the global north.
As an Afro-Indigenous activist and creative, this experience was more than just life-changing. It gave me the strength and inspiration to pursue my dreams and to create the narratives that I envision for my community. It reinforced the importance of protecting our planet, from the coral to the mangroves and the forest, and the need to adapt and thrive no matter the changes or challenges we face.
This global fellowship of storytellers from the Americas, Asia, the Pacific Islands, the Amazon, and the Caribbean, took us on a journey from within our lens through our cultural stories and histories to re-imagine our climate future. It was a privilege to meet inspiring creatives and fearless activists who are working towards a better future.It was inspiring to see how as young people we are taking the future into our hands, making the impossible possible for future generations.
The Indigenous Imaginarium allowed us to connect across the unseen barriers of men and to connect with people who share our way of perceiving life. It  is an opportunity to recreate the world we want with the knowledge of the past and the power of the future being in the infinite present.
In conclusion, the Indigenous Imaginarium experience was a transformative journey that left an indelible mark on us all it was like I said before,  a dream come true, bringing us all together from all corners of the world, showcasing our stories and talents, and providing a space to reimagine our climate future through the Indigenous dream of a healthy relationship with our planet. It was a life-changing experience that will continue to inspire me to create a better world for all.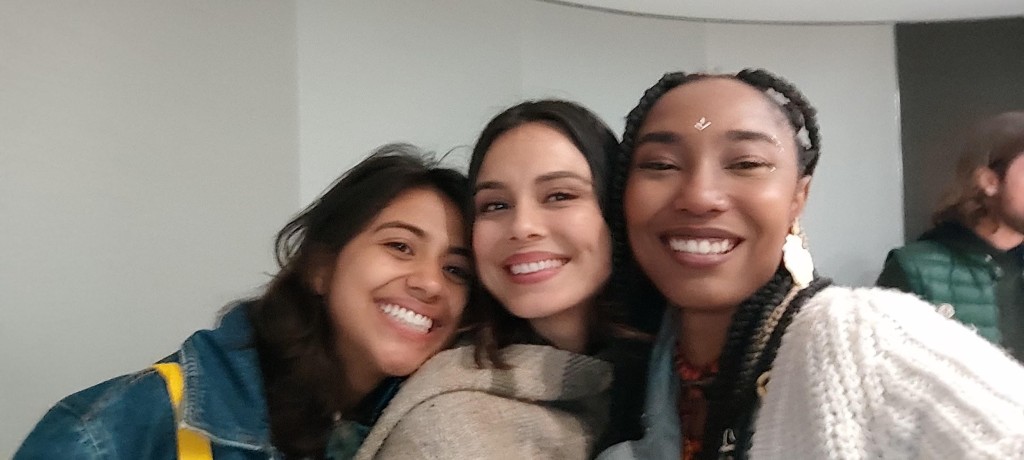 (Isabela Santana, Nath Kelley and Yurshell Rodriguez – Indigenous Imaginarium reception )
Last day, is it the end?
The last event we had was the rescheduled event at the California Music Studio hosted by Malte Hagemeister and by far was one of the most educational and interactive spaces during the Indigenous Imaginarium. Despite the intensity of the days and the shifting climate in California, we were excited to learn from a visionary and people-person like Malte who shared his immense knowledge about sound and audio storytelling.
As a co-founder, Grammy-nominated music producer, composer, guitarist, and dad of six, Malte has been clashing music styles for 20 years and pushing California Music's balance of big commerce and heartfelt art. During the evening, Malte emphasized the importance of sound quality and how it can improve the message and impact of a production. He also shared insights on the power of music to evoke emotions and feelings in the audience.
We had the opportunity to ask Malte a lot of questions, ranging from technical topics about apps and plugins to the feelings and emotions we want to transmit through our art. The discussion was not just informative but also inspiring, as we learned how sound can be used to create a more powerful and meaningful message. Malte's passion and expertise in this field were evident, and it was amazing to witness his creativity in action.
Overall, the evening was a fantastic experience that highlighted the importance of sound and audio storytelling in film and media. The knowledge and insights we gained from Malte have been invaluable, and I am sure that they will be useful in our future endeavors as Indigenous filmmakers and creatives. We left the event feeling empowered and inspired, ready to incorporate what we had learned into our projects and creations.
Last but not least, the farewell …
The experience of walking on Santa Monica Beach after a phenomenal evening at the California Music Studio was truly remarkable but also kind of sad. As we walked along the shore, laughing and chatting, the connection among us was palpable, having grown into a friendship and a sense of mutual respect for one another's unique perspectives and experiences. It was incredible to reflect on all that we had learned and shared over the past week, and how it had impacted each of us individually.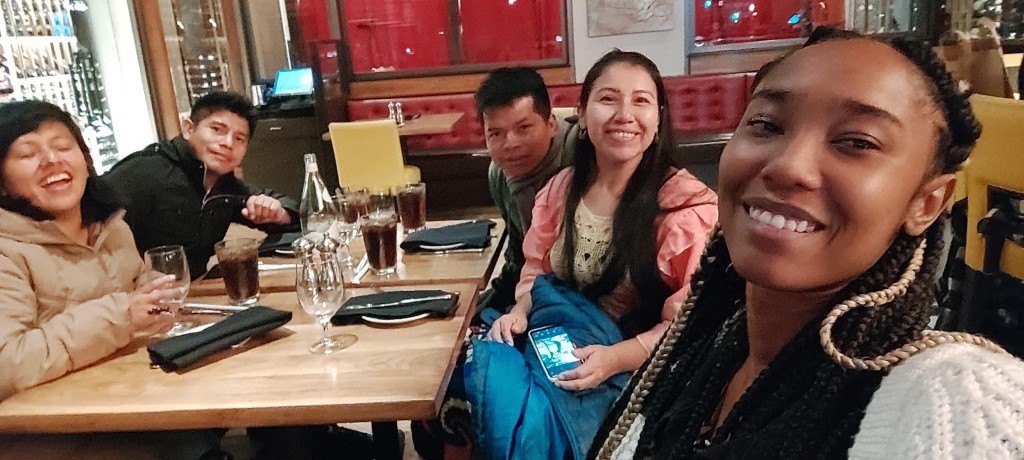 As we walked, the sounds of the ocean and the seagulls mingled with our conversation, reminding us of the beauty and power of nature. This experience was a stark contrast to the intensity of the days, which were filled with learning, networking, and creating. The beach provided a sense of calm and peace, a moment of reflection, and a chance to process everything we had experienced.
For me, this experience was more than just a networking event or a professional development opportunity. It was a life-changing experience that added value and meaning to my life. The connections that I made with fellow creatives and activists will be cherished for years to come, and I'm excited to see where these connections will lead us in the future.
I'm incredibly grateful for the universe that granted me this opportunity to be a part of such a transformative experience. California, LA, and Topanga Canyon will forever hold a special place in my heart, and I'm grateful to If Not Us Then Who for making this all possible.
As the sun began to set, we said our goodbyes, knowing that we would see each other again soon, and that we had been changed by this experience. As I walked away from the beach, I couldn't help but feel a sense of joy and gratitude, knowing that I had made meaningful connections and grown as a person. Until we meet again, If Not Us Then Who, and thank you for this unforgettable experience.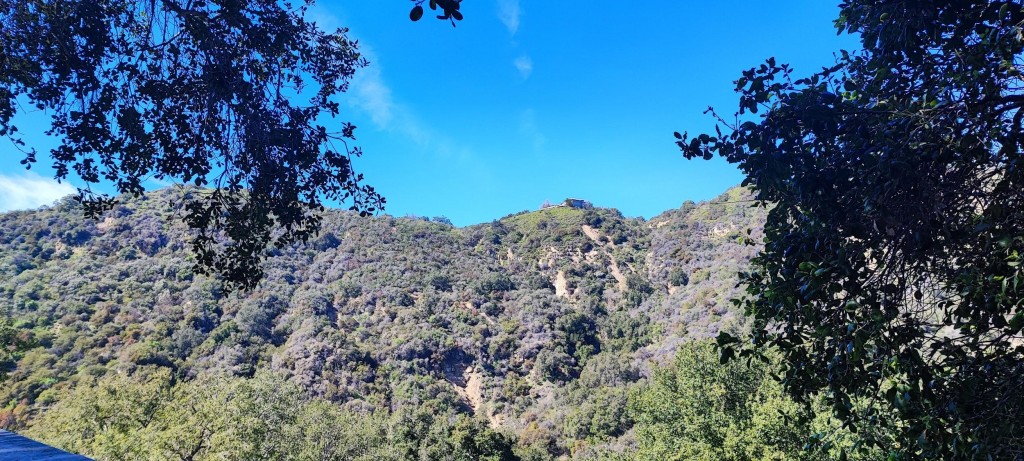 The end …