With this dialogue of knowledge, we hope to continue honoring our ancestors by practicing the gift of storytelling, rethinking and strengthening our own identity.

David Hernandez Palmar
Co-Director of Emerging Filmmakers Professional Development Programme | Wayuu people
What is the Emerging Filmmakers program?
The Emerging Filmmakers Professional Development Programme is the latest chapter of If Not Us Then Who's work with Indigenous and Local Community filmmakers. This project builds on introductory-level film training programs carried out in Mexico, Nicaragua, Panama, Peru, Indonesia, and Brazil, with a range of regional partners, which we have now developed to provide onward capacity-building for trainees as they expand their production and establish themselves in the filmmaking industry.
The program has the participation of around 40 filmmakers from Indigenous and Local Communities in the Global South with masterclass sessions around storytelling, production and distribution; one-on-one mentorships around their audiovisual projects; direct funds for their productions; and ongoing impact support for campaigns about their films.
This programme is supported by the Climate and Land Use Alliance CLUA, the Perspective Fund and the Tenure Facility.
Meet Our Mentees
The Emerging Filmmakers programme is now running on its second year, and we are thrilled to share with you the profiles of some of the individuals and collectives that are a part of it:
Yaily comes from the region of Guna Yala, Panama. She studied a degree in Sanitation and Environment in the Technological University of…

Luciane Saw Munduruku, more known among her friends and relatives as Beka Munduruku, is 18 years old and lives in Sawre Muybu villag…e.

Kalfein Maikel Wuisan or Kale, is an Indigenous Minahasa youth from Wuwuk, Sulawesi Utara, Indonesia. Besides involvement in the youth …

Kuyu is a filmmaker in Kuyujani Produccion Audiovisual and belongs to the indigenous people of Yekwana, (State of Bolivar, Venezuela). …

Kokoyamaratxi Renan Suya is a photographer, filmmaker and motion graphic maker from the Kisedjê people (Mato Grosso, Brazil). In 2008…

Noveni is Dayak Bahau, an indigenous peoples from East Kalimantan (Indonesian Borneo). Since 2017, she has been defending the rights of…

Tirza Yanira Ixmucané Saloj Oroxom, Mayan K'iche, born in Quetzaltenango, Guatemala. Illustrator, muralist, plastic artist, and audi…

​​Alcibiades is a facilitator, photographer and amateur filmmaker specialized in environmental storytelling. He is a member of the …

Jimmy is an indigenous filmmaker. He was born in the Siekoya Remolino community. He loves to face new challenges, visit new places and …

Elizabeth Swanson Andi is a member of the Santu Urku Kichwa community on the Napo River in the Ecuadorian Amazon. She is an indigenous …

Yarixa comes from the region of Guna Yala, in the Caribbean coast of Panama. She was born and raised in Panama, and is currently studyi…

Carlos is a documentary film maker who lives in the community of Waorani Titepare, in the Amazonian Region of Ecuador. His role involve…

Nazario Tiul Choc is from a community known as Cooperativa Unión Maya Itzá (a community that was repatriated from Mexico to Guatemala…

Jose was born in 1994 in the community of Carmelita, San Andrés, Peten, Guatemala, located in the Maya Biosphere Reserve. He graduated…

Yumi Ortiz  (also known as Lyudmila Vallarino) comes from the region of Guna Yala, in the Caribbean coast of Panama. Yumi is a student…

Ribaldo is a young Siekopai photographer and filmmaker. He lives in the Ecuadorion Amazon and is a member of the NGO Alianza Ceibo, an …

Nelson was born in Melchor de Mencos (Peten department) and has lived in the Cooperativa Integral Agropecuaria Técnica Responsabilidad…

Chris is an indigenous male of the Arecuna Nation in Guyana. He is 32 years old and has been volunteering for the past three years unde…

Welder is a Guatemalan citizen and resident of the community Cruce a La Colorada, which holds a concession that allows the sustainable …

Edivan Guajajara is from the Zutiwa village, located in Arariboia Indigenous Land (Maranhão, Brazil) and one of the creators of the c…

An emerging filmmaker, Gabriela belongs to the Garifuna people and has a background in Honduran indigenous and black peoples' rights,…r.

Jhonatan a is  21 year old Dayak Kanayatn Youth from Sungai Ambawang, West Kalimantan. He is a Medical student from the Medical Facult…

The journalist and communicator Erisvan Bone Guajajara is founder of the digital platform Mídia Índia. He was born in Lagoa Quieta vi…

Maycon Krenak is an emerging filmmaker of the Krenak people. After participating in the process of the documentary about his people &#8…

Alexandro lives in Rio Bonito indigenous village, located in Ubatuba, São Paulo, Brazil. Since he was 12, Alexandro has worked within …
About Our Team
Ambassador & Emerging Filmmakers Program Coordinator. Filmmaker, independent curator and film programmer with recognized experience…

Filmmaker, visual journalist & Emerging Filmmakers Program Coordinator. Jaye Renold is a filmmaker and visual journalist with a bac…

Actress & Emerging Filmmakers Program Administrator. Isabela Santana is a Pataxó actress and producer at the Emerging Filmmakers P…

Writer, Producer & Emerging Filmmakers Program Administrator. Maria Luisa Santana – or just Malu – is a writer, poet, c…

Activist & Impact and Distribution Strategist. Campaigner, social scientist and feminist activist with a background in climate acti…
Professional Development Highlights
The Emerging Filmmakers program goes beyond the training and development of a single audiovisual project: we believe in creating powerful spaces for developing career, territorial and advocacy work from the mentees and their organizations. The programme bridges our mentees to many opportunities around campaigning, connecting with industry leaders and mainstream media, and creating impact plans for their films and their careers.

Professional development opportunities our mentees connect with have included:
Producing the 'Indigenous Imaginarium'
An If Not Us Then Who? initiative to bridge international Indigenous filmmakers to the media industry in Los Angeles: A global fellowship of 23 Indigenous storytellers from the Americas, Asia to the Islands of the Pacific Ocean, to depths of the Amazon, the Caribbean, and North America, shared their personal experiences from within their lens, through a journey of their cultural stories and histories, to re-imagine our collective climate future.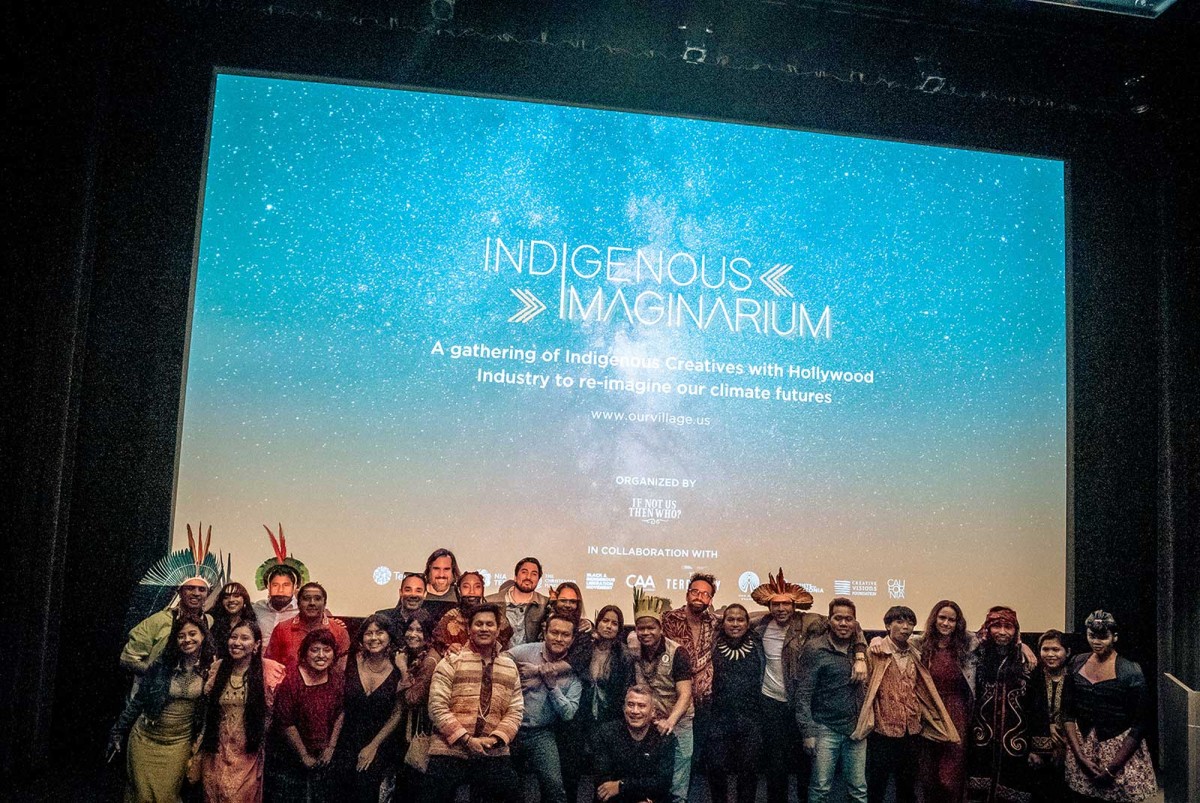 I never imagined coming to this territory because of situations of discrimination and immigration problems. Being here and with the privilege of coming to train, I see a part of the cinema monster, the arts, and new technologies.

Tirza Yanira Ixmucané
Mayan K'iche | Guatemala
Connecting the films to International film festivals and events
Bringing projections, panels and live speaking opportunities at festivals like the FIFEQ, the Latin American Forum on Social Impact Films, the UNDP Climate action events and the Camden International Film Festival, among others.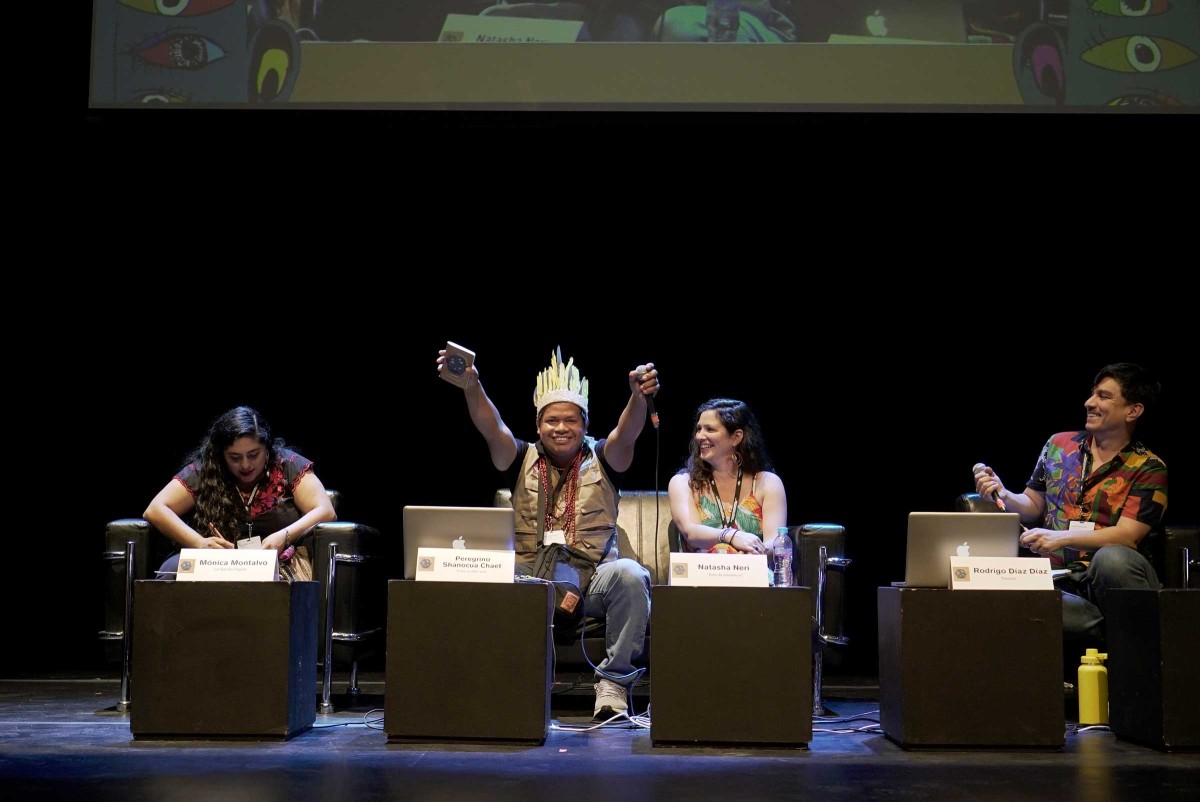 Supporting commission opportunities for filmmakers and their collective initiatives
Connecting indigenous creatives on the ground with global partners like Nature for Climate, the Global Alliance of Territorial Communities and the Tenure Facility to develop stories and guarantee fair and equitable conditions for them and their partners in production.
The impact of our Emerging Filmmakers program is aimed at connecting with their priorities for distribution, supporting the demands of their communities and increasing their visibility and profiles with key partners in the industry and the social movements. As we continue to grow and connect with the stories of creatives on the ground, keep following our highlights and join us for offline and online actions to display the stories of Emerging Filmmakers.