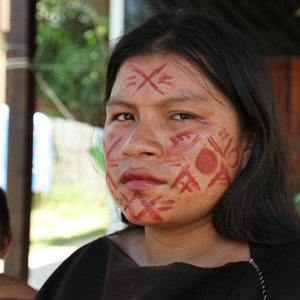 Diana Rios
Country of Origin: Peru
Daughter of Jorge Rios, who was murdered in September 2014, along with Edwin Chota and 2 other Asheninka leaders. Diana has continued the fight for land title in the Saweto – Alto Tamaya community in Peru.
Diana received the Alex Soros Foundation Award for Environmental Activism in New York City in November 2014. The following month, after returning to Saweto for the first time since the death of her father, she was elected as treasurer by assembly.
"The loggers and the government didn't want to give us our title. They ignore us. We don't have anything. All we can do is fight. Thank you so much for giving me this responsibility. I will always be fighting for Saweto," Diana Rios.