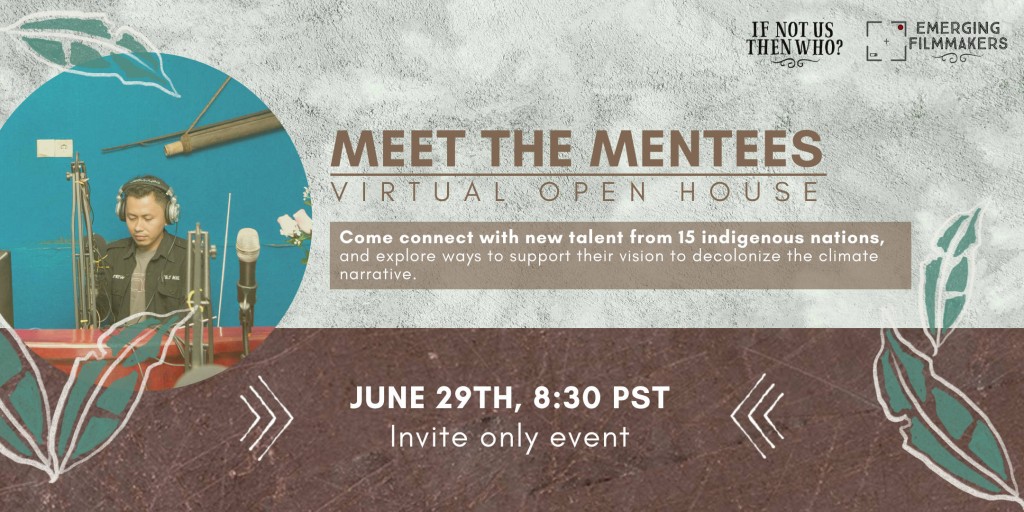 The EMERGING FILMMAKERS PROGRAM by 'If Not Us Then Who' is grateful for our community who attended our first ever 'Meet the Mentees – Virtual Open House' on June 29th, 2022.
This exciting opportunity allowed us to connect producers, funders, and distributors in the filmmaking industry personally with new talent from Panama, Ecuador, Venezuela, Brazil, Guatemala, Honduras , Indonesia, Guyana, and many more. Together we explore ways to collaborate and support their vision and decolonize the climate narrative.

After our first year of work in training and collaboration, our cohort of 27 filmmakers from 7 countries and over 15 indigenous nations, we are happy to showcase the first 10 audiovisual narratives arising from the heart of their lands. These stories reflect their challenges and hopes, but above all showcase how Indigenous Peoples and Local Communities (IPLCs) are successfully managing their lands and forests.
About the Emerging Filmmakers program
EMERGING FILMMAKERS is a program by 'If Not Us Then Who?' designed to expand and build capacity amongst a network of indigenous and local storytellers to use different media, reach broader audiences and shift narratives around indigenous peoples.
The Emerging Filmmakers Professional Development Program, is an If Not Us Then Who? Mentorship program that features and supports Indigenous storytellers from tropical forest communities who are working with grassroots organizations in their territories. Over the course of each year, participants work towards a set of professional development goals that we will help to support with training and peer to peer learning delivered remotely. Support provided is tailored to the goals of the participants, aiming to increase capacity in framing, delivery and distribution of quality content.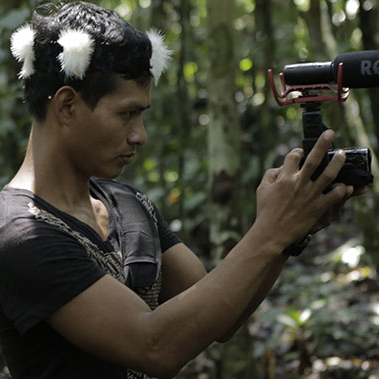 Specific goals
This project focuses on:
Capacity building and micro-financing to emerging Indigenous and local content producers
Ongoing mentoring (peer development webinars, feedback on story development & edits, specific technical up-skilling)
Translation and distribution of visual content according to collaboratively developed distribution strategies (photo and/or A/V)
Equipping filmmakers to tailor their films to different audiences, targeting a decision maker audience where suitable, whilst broadening the wider audience for new content via the INUTW online distribution channels.
Leadership Team
Ambassador & Emerging Filmmakers Program Coordinator. Filmmaker, independent curator and film programmer with recognized experience…

Filmmaker, visual journalist & Emerging Filmmakers Program Coordinator. Jaye Renold is a filmmaker and visual journalist with a bac…

Actress & Emerging Filmmakers Program Administrator. Isabela Santana is a Pataxó actress and producer at the Emerging Filmmakers P…
1st Mentee Cohort
Yaily comes from the region of Guna Yala, Panama. She studied a degree in Sanitation and Environment in the Technological University of…

Luciane Saw Munduruku, more known among her friends and relatives as Beka Munduruku, is 18 years old and lives in Sawre Muybu villag…e.

Kalfein Michael Wuisan or Kale, is an Indigenous Minahasa youth from Wuwuk, Sulawesi Utara, Indonesia. Besides involvement in the youth…

Kuyu is a filmmaker in Kuyujani Produccion Audiovisual and belongs to the indigenous people of Yekwana, (State of Bolivar, Venezuela). …

Kokoyamaratxi Renan Suya is a photographer, filmmaker and motion graphic maker from the Kisedjê people (Mato Grosso, Brazil). In 2008…

Noveni is Dayak Bahau, an indigenous peoples from East Kalimantan (Indonesian Borneo). Since 2017, she has been defending the rights of…

Tirza Yanira Ixmucané Saloj Oroxom, Mayan K'iche, born in Quetzaltenango, Guatemala. Illustrator, muralist, plastic artist, and audi…

​​Alcibiades is a facilitator, photographer and amateur filmmaker specialized in environmental storytelling. He is a member of the …

Jimmy is an indigenous filmmaker. He was born in the Siekoya Remolino community. He loves to face new challenges, visit new places and …

Elizabeth Swanson Andi is a member of the Santu Urku Kichwa community on the Napo River in the Ecuadorian Amazon. She is an indigenous …

Yarixa comes from the region of Guna Yala, in the Caribbean coast of Panama. She was born and raised in Panama, and is currently studyi…

Carlos is a documentary film maker who lives in the community of Waorani Titepare, in the Amazonian Region of Ecuador. His role involve…

Nazario Tiul Choc is from a community known as Cooperativa Unión Maya Itzá (a community that was repatriated from Mexico to Guatemala…

Jose was born in 1994 in the community of Carmelita, San Andrés, Peten, Guatemala, located in the Maya Biosphere Reserve. He graduated…

Yumi Ortiz  (also known as Lyudmila Vallarino) comes from the region of Guna Yala, in the Caribbean coast of Panama. Yumi is a student…

Ribaldo is a young Siekopai photographer and filmmaker. He lives in the Ecuadorion Amazon and is a member of the NGO Alianza Ceibo, an …

Nelson was born in Melchor de Mencos (Peten department) and has lived in the Cooperativa Integral Agropecuaria Técnica Responsabilidad…

Chris is an indigenous male of the Arecuna Nation in Guyana. He is 32 years old and has been volunteering for the past three years unde…

Welder is a Guatemalan citizen and resident of the community Cruce a La Colorada, which holds a concession that allows the sustainable …

Edivan Guajajara is from the Zutiwa village, located in Arariboia Indigenous Land (Maranhão, Brazil) and one of the creators of the c…

An emerging filmmaker, Gabriela belongs to the Garifuna people and has a background in Honduran indigenous and black peoples' rights,…r.

Jhonatan a is  21 year old Dayak Kanayatn Youth from Sungai Ambawang, West Kalimantan. He is a Medical student from the Medical Facult…

The journalist and communicator Erisvan Bone Guajajara is founder of the digital platform Mídia Índia. He was born in Lagoa Quieta vi…

Maycon Krenak is an emerging filmmaker of the Krenak people. After participating in the process of the documentary about his people &#8…

Alexandro lives in Rio Bonito indigenous village, located in Ubatuba, São Paulo, Brazil. Since he was 12, Alexandro has worked within …
Capacity Building
Since 2013 If Not Us Then Who? has been connecting with and amplifying communicators from across the tropical forests regions.
Vibrant Indigenous film production supports:
Cultural resilience and resistance
Record ancestral knowledge and raise pride and profile of indigenous communities
Defence of Indigenous territories and rights
Digital storytelling enables injustices and incursions to be denounced to the world and catalyse action against them
Building solidarity
Sharing stories and solutions across greater distances than ever before
Biodiversity
Indigenous peoples are guardians of 80% of the world's biodiversity and strong Indigenous land rights have been recognised as an important climate solution
Since 2013 If Not Us Then Who? has been connecting with and amplifying communicators from across the tropical forests regions.